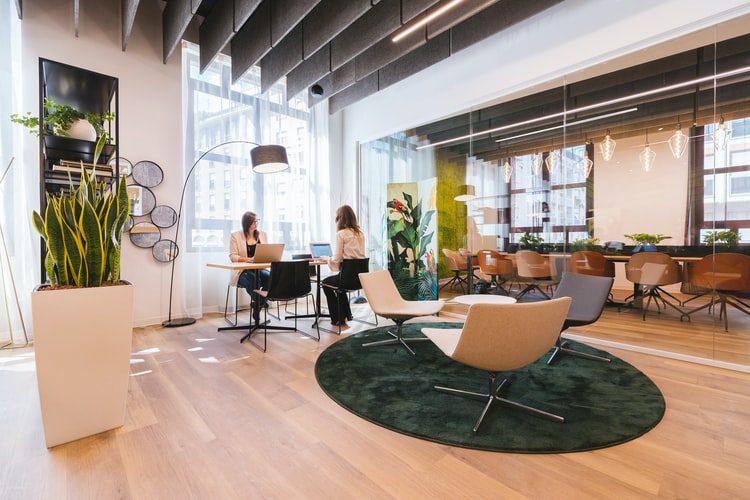 A coworking space is an office space approach wherein different people independently work on their tasks in a neutral area. Small groups that are working on the same project also frequent coworking spaces. The essence of this space is that these people do not necessarily work for the same company. It has been on-trend in the past few years and is even more popular today to accommodate freelancers, startups, independent business owners, and the likes.
Office furniture for coworking spaces ranges from private workstations to open-area furniture. The goal is to provide a conducive working environment for the patrons who otherwise may not have a proper working space at home. Some companies also adopt a coworking space style for their collaboration rooms and alternative work areas. They provide employees with different environments that foster productivity and creativity.
What's in a coworking space?
You can design a coworking space for a whole unit, a part of a company's space, or even an extension of a café. The basic amenities you can find in these areas include wired and wireless internet, printing services, coffee plus snacks areas, and of course, proper furniture.
Space-wise, all you need for a coworking space are reliable desks and a flexible office layout.
Dedicated Desk
Individuals need their proper desks to fulfil their work in coworking spaces. Desks should have adequate width and length so that the movement of people sitting next to each other is not restricted. For more flexibility, you can choose adjustable sit-stand desks for your space. This way, you can cater to your visitors' different working styles and introduce health benefits too.
You can add privacy panels to desks to establish clearer boundaries and protect possible confidential work. It can also eliminate distractions for people who want to concentrate. Desk panels vary in height. You can choose a taller design for more privacy or a shorter one that suggests a more open environment.
Office furniture, especially desks, for any office space needs to be data-enabled. There should be dedicated slots for data cable connections so as not to introduce clutter on the desk. Desks should have proper cord management for the safety and efficiency of those using them.
Private Booths
Private areas in coworking spaces can be solo workstations, phone booths, small conference rooms, and sometimes nap rooms. These amenities may be a corner workstation, workstations with full-height screens or panels, or a separate room altogether.
Some people may need solo workstations to finish highly important or urgent work, even for a few hours. Phone booths should be available for people taking calls to not distract other workers during the call. Small teams working on the same project need their own space. Groups tend to have discussions from time to time. Thus, it may distract other freelancers or individuals in their independent work. Conference rooms can also host short meetings if your business owner patrons meet clients, suppliers, and partners in the coworking space.
Office Chairs
Pair your desks with comfortable chairs to provide the most conducive workspace. Since coworking spaces welcome many individuals, there will be varying needs in seating to accommodate them. It would be ideal to choose adjustable chairs, or better yet, ergonomic chairs for your space. People can modify these chairs to suit their height while having neck and lumbar support.