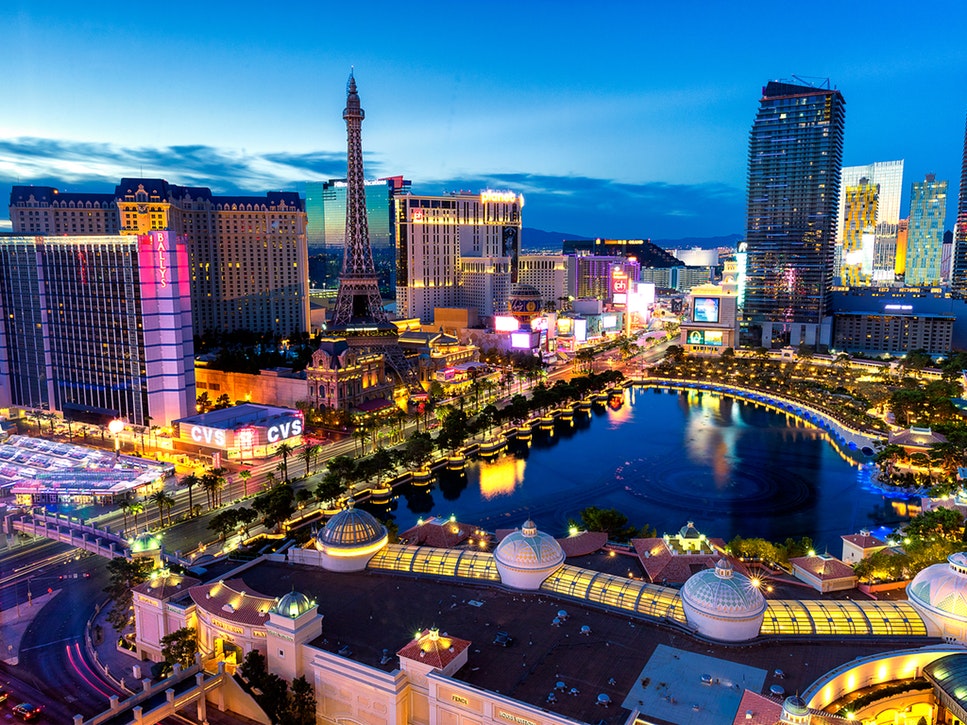 Of all the states, not many get as much of a bad rep as Nevada. Despite this, Las Vegas still sees millions of tourists flocking in to enjoy the bright lights, exotic entertainment and the chance to win life changing amounts of money at the casinos. Vegas is the ultimate place where you can let go of your inhibitions and really make the most out of your holiday – which over 41 million visitors experienced last year. The appeal of the restaurants, shows, shopping, and other attractions in Vegas is unrivalled by any other holiday destination. But to make sure you have an unforgettable trip, you're going to need to understand a little about the landscape.
We've put together a comprehensive guide for those looking to conquer Vegas for the first time to hopefully quash any anxiety you may have about booking your trip! After all, no one likes to look like a first-timer when they step off the plane.
1. Don't Underestimate the Size of Vegas!
Many people when they first come to Vegas make the mistake of thinking all of the attractions and hotels are in easy walking distance. The Las Vegas strip is over four miles long, even though it may not appear that vast on a map. It's always good to leave a little room for spontaneity in your trip but note if you're planning on trekking between the locations, you'll probably need a new pair of shoes by the end of your trip! If you want to see as much as Vegas as possible, jump aboard the Las Vegas Monorail, which stops off at all of the major attractions.
Given the size of Vegas and just how much there is to see, it can be quite overwhelming to a first timer. But there are plenty of ways which will allow you to get a feel for the place and make sure you don't go home feeling like you missed on a lot of the action. Even if you're only planning on spending a couple of nights in Vegas tour operations such as the Big Bus will take you to all of the sweet spots! There are over 20 stops, but you can hop off at any time!
2. Know Where and When to Drink & Eat
It's no secret that a trip to Vegas can cost you a pretty penny! So, make sure you make the most out of the freebies on offer. If you're planning on playing slots, table games or video poker at a casino, don't be so quick to head to the casino bar. Cocktail waitresses regularly make the rounds with FREE cocktails to try and persuade you to keep playing for a little longer. If you're planning on hitting the clubs in the evening, remember that every drinks order will get slapped with an additional live entertainment tax, even if you're only going to see a DJ. So, for cheaper drinks, find somewhere that's entertainment free!
Where possible, try to avoid eating at peak dinner times. This is usually between 6pm and 8pm. Whilst it may not cost you extra money to eat at peak times, in some restaurants, especially in the Buffet-style restaurants you can spend a fair few hours waiting in line.
3. Prepare for the Weather
Many first timers come to Vegas – especially in the summer thinking that they will have no use for a jacket. The freezing chill of the casinos thanks to the overuse of the AC immediately tells them just how wrong they are. So, even if you're planning on booking a trip for July, August or September always carry a light jacket. Whilst the temperatures may be frosty inside, outside you'll be faced with the merciless heat. Make sure that you never leave your hotel without a bottle of water and a bottle of high SPF sun cream. For most tourists, there's plenty of walking involved in a trip to Vegas, walking without water is one sure way to get dehydrated. If anything ruins your trip to the strip it will be sunstroke.
4. Take Advantage of the Discounts
There are plenty of Player's clubs in Vegas which are well worth signing up to, even if you aren't planning on doing much gambling. By signing up to a Player's club, you'll receive a whole host of exclusive discounts on meals, shows and attractions. All you need to do to take advantage of your membership is swipe wherever you go in the casino. Gamblers will definitely make the best use of the Player's card which allows gamblers to accrue points with every game.
5. Taxi & Ride Share Tips
Wherever you're visiting Vegas from, it's almost guaranteed that you will receive a better taxi service in your hometown. Vegas may be the land of fast money, but it certainly isn't the land of fast private transport. Always make sure that you allow 30+ minutes for a taxi to arrive, and you better make that an hour if you're planning on travelling during 6pm and 8pm. The waiting time can be anywhere up to two hours if you have attended an event which draws in thousands of people. If you'd really rather not hang around waiting, there are plenty of ride sharing opportunities in the forms of shuttle busses – these are especially useful for travel to and from the airport.
Not quite ready for your trip to Las Vegas?
There's plenty more to Las Vegas than gambling, but even so, the casinos are such a massive part of many tourist's experiences! Why not see if you have the taste for the excitement of the casinos from the comfort of your own home by using an casinos like EgyptSlots.com? Playing from your sofa may not give you the same thrill of the most notorious of casinos, yet they can still help you to get to grips with the gaming experience. Just as slot machines are a massive part of land-based casinos, online video slots are now a flagship game for many online casinos such as Egypt Slots. With such high jackpot amounts from the more progressive slot machines, you may even be able to cover your expenses for your Vegas trip!