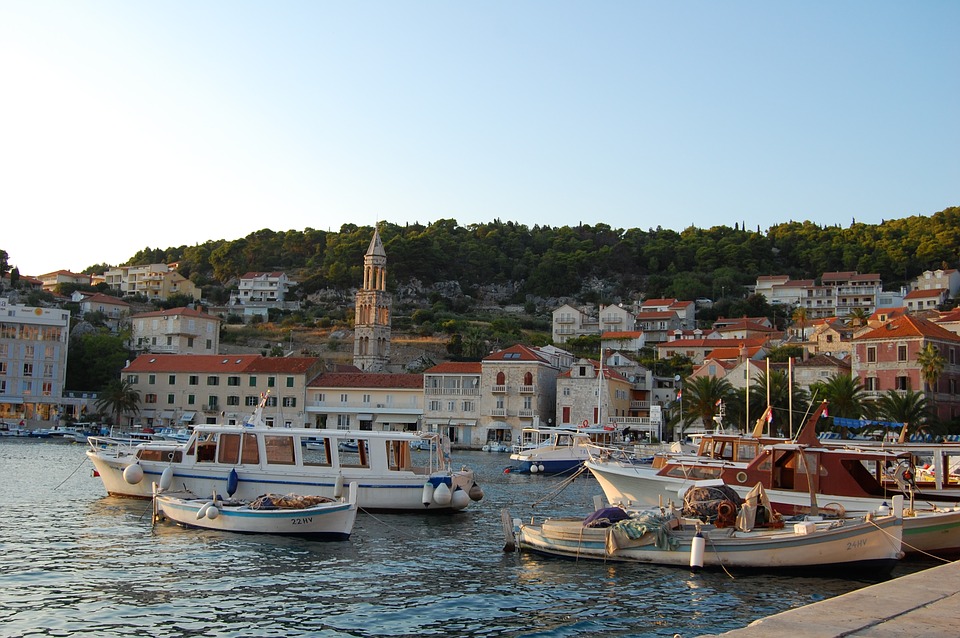 If you are thinking about your holiday destination, we recommend you Dalmatia region in Croatia. The name Dalmatia exists ever since the first century and its named by the Delmats (Dalmatians), a tribe of the Illyrians. Today it is one of the most popular destination in the world where you will spend your dream vacations. Beautiful nature, rich culture, vivid lifestyle, Adriatic Sea and coast, Mediterranean climate, islands and historical cities will charge your batteries for the whole year. Let's talk about Dalmatia!
Weather
If you don't like the cold, come to Dalmatia and feel the benefits of the Mediterranean climate. Dalmatian winters are mild, and summers are hot and dry – the best combination for excellent vacation. You have probably heard that the island of Hvar is the sunniest island in the Adriatic Sea, with more than 2,700 hours of sunshine a year. In Dalmatia, many people swim during the winter, so do not hesitate to do the same. Only Bura, the cold and dry northwest wind, can stop you. Thanks to the great Dalmatian climate, you can have an active holiday fulfilled with Sun throughout whole year.
Dalmatian Coast, Sea and Islands
One of the reasons why a lot of tourists come to Croatia is the Dalmatian coast which is becoming more popular from year to year. That long coast is backed by mountains with a lot of islands. You can choose between secluded places or some trendy hotspot such as the Hvar or Novalja. The connectivity between the land and islands is excellent so you can visit it all in short time. Islands are a lovely destination for a fabulous and unforgettable vacation. You will make the best decision if you reserve accommodation in a villa with a private pool and make many side trips. There are Southern, Central and Northern Dalmatia, and every part of it is exciting and have a rich history. You will find everything that you need for a perfect holiday – beautiful nature, viewpoints, promenades, great restaurants, long and secluded beaches, and more.
Dalmatian Cuisine
One of the most essential things and questions for Dalmatians is what to eat! Maybe the secret of their beauty is superb and healthy food. Dalmatian cuisine includes the best of the Mediterranean way of cooking. Start with seafood and meat. Try fish meals like a baked octopus, different kind of grilled sea fish, fish stew (brudet), black risotto etc. You should also enjoy in lamb, pasticada with gnocchi, Dalmatian ham, cheese, olive oil, soparnik… If you relish sweets, you should choose a local dessert like fritule, krostule, rozata etc. If you order dry white wine such as Posip or a red one like Dingac, you will certainly not go wrong. Bon appetite!
Old Cities
The Dalmatian coast is home to many old, historic cities. As you maybe know, Croatia has 10 UNESCO World Heritage Sites, eight of them are cultural sites, and two are natural. From Zadar to Dubrovnik you can visit many, smaller and bigger, charming old towns that have its own unique flair. You'll see cathedrals and churches, spacious squares, massive walls, and a romantic promenades. Some reflect the Roman Empire and some Venetian Republic; some have a multitude of modern cafes and bars, some are quiet and romantic. The old city centres of Split and Dubrovnik, which are protected by UNESCO, are ones of the most visited in the Dalmatia. Ston is a small town with the longest stone wall in Europe (5,5 km).
Cultural Events and Nightlife
Dalmatian people like to party a lot. This region has become one of the favourite places for those who are in search of the best party destination in Europe. You can enjoy unforgettable parties and festivals such as Ultra Music Festival. There is a lot of clubs where you can chill and drink your cocktail.
In Dalmatia, you will find many traditional events during summer, like fishermen's evenings, holiday celebrations, traditional festivals, theatre festivals, film screenings and street entertainment.
Peljesac Peninsula
Peljesac is the second largest peninsula in the Adriatic Sea. It is the perfect place to indulge in food, red wine, gorgeous lovely sandy and pebble beaches and ancient history. This peninsula is in the south corner of Croatia. It offers some unforgettable experiences and adventures like olive oil tastings, wineries tours, food (oysters from Ston), history, countryside, beaches, biking, diving…
Dalmatian Hinterland (Zagora)
Dalmatian hinterland or Zagora is located not far away from the coast. There you can enjoy in traditions dating back hundreds of years (e.g. in Sinj), adrenaline tourism, natural beauties (like Blue Lake and Red Lake in Imotski), unique indigenous wines and gourmet delights. It's, also, a perfect place to escape from the daily hustle and bustle. If you need peace and quiet – a place to give your body and soul chance to recover, come to Zagora.
No matter what you are looking for, you can find a perfect place for you in Dalmatia and forget all your worries.