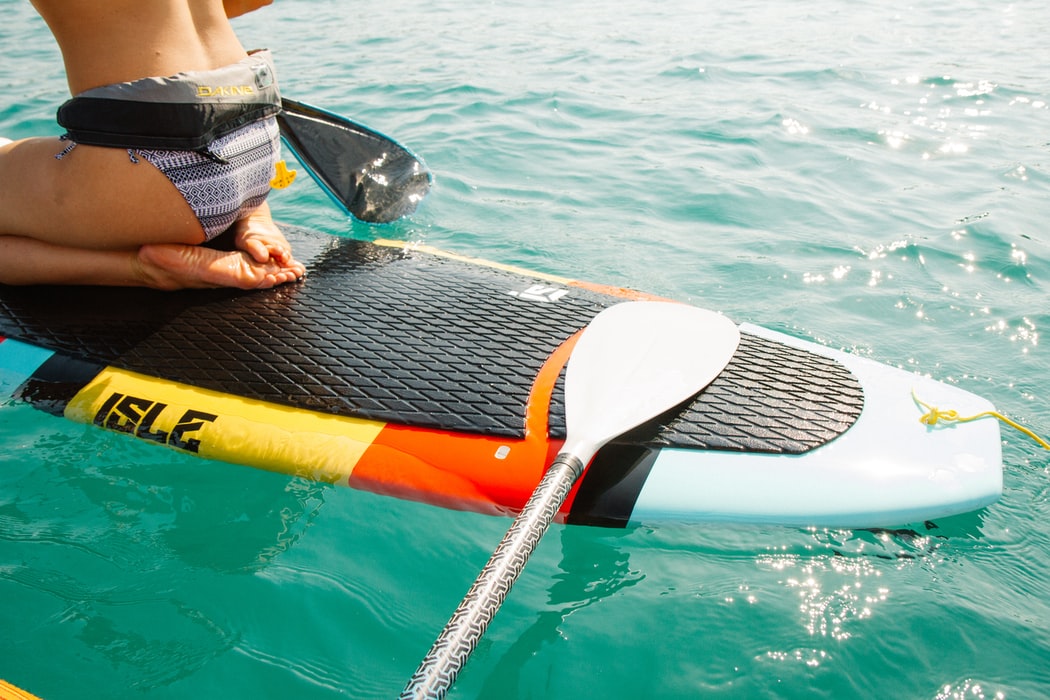 There are a whole host of reasons that you might want to try stand up paddle boarding. Maybe it's to take in a new way of exploring a new place, perhaps it's for the excellent health benefits. Maybe it's just because it's heaps of fun! Whatever your reasoning, getting started can sometimes be intimidating. However, it needn't be. Stand up paddle boarding is a wonderful activity to do solo or with a group of friends. And it isn't even that hard! Once you start, you'll be wondering why you haven't been doing it your whole life. Let us help you get started with our SUP 101: How to Paddle Board.
Get the right equipment
It doesn't matter if you're renting or buying, you need to get the right equipment for SUPing. The most important things you'll need are:
Board

Paddle

Personal Floatation Device (PFD)

Leash
Board: The first choice you'll have to make is choosing between a hard board and an inflatable board. Inflatables are great for beginners and they'll easily fold up into a backpack. The fact that they're so portable and convenient makes them very popular. Hard paddle boards tend to be quicker and they're good for activities like touring and surfing. You should choose your board based on weight and skill levels – remember to leave a bit of room in the weight limit of your board. You may want to bring extra stuff with you, or even go paddle boarding with your dog!
Paddle: You can't have a SUP without a paddle! Paddles should be around 25cm longer than your total height, and if you're buying, cost around 20% of the price of the board. A super lightweight paddle is a great option if you don't mind splashing out extra – especially if you're doing surf SUP.
Personal Floatation Device (PFD): A personal floatation device is not just useful, in some places where SUPs are classed as water vessels, it's a legal requirement. Don't let that spook you though, all it is is something that will keep you afloat should you fall off your board. They're made for your safety above anything else.
Leash: Last but not least is the leash. Another safety device, this will keep you tethered to your board should you fall off. Hopefully, you won't, but it's nice to know that you won't lose your board if you do. Know that surf leashes and SUP leashes are different – so don't expect to be able to use the same leash for both sports. 
Start somewhere calm 
With any sport, you wouldn't try something hard before mastering the basics. So why would you
with stand up paddle boarding?! While surf SUPing may look cool, the best place to practice getting your balance is on calm and flat water. This will enable the muscles that you're not used to using, get accustomed to being brought back to life! 
The best way to start is by getting on your knees in the middle of the board. When you feel confident enough to stand up, make sure to take it one foot at a time. It may seem slow at first, but putting the effort in at this stage will make things easier later on. 
It's also important to have lots of space when starting off. If you're doing a class or trying it with family and friends, make sure to have some space either side of you so that if you fall, you won't throw them off balance. After all, no-one wants to be injured!
Learn to take a fall
While on the subject of falling over, it's inevitable that it will happen at some point in your SUP adventures. No need to feel bad, everyone has to start somewhere! What you should be aware of though is the right way to fall. 
Again, it may sound like common sense, but make sure to fall away from the board. That way, you won't damage your face. Even an inflatable board can leave you with a pretty nasty injury if you hit it head on!
If you took our earlier advice on using a leash and a PFD, you won't have to worry about losing your board or drowning! 
Know your limits
An important part of any sport (paddle boarding included) is to know your limits. Make sure to invest time and pay attention to the basics – that way you'll avoid putting yourself at risk of injury. The more you master the key components of SUPing, you're sure to enjoy it more. And the best part? Once you get used to SUPing, you could try combining it with surfing, yoga, or fishing. 
Health Benefits of Paddle Boarding
If you're still not convinced after reading the beginner's guide to paddle boarding, then perhaps focus on the health benefits of stand up paddle boarding. 
SUP is an awesome substitute for going to the gym. It's low impact, great cardio, your core will improve, and it'll help you to lose weight. All of that as you avoid getting sweaty and just focus on appreciating the great outdoors around you. What more could you want?!
And while on the subject of the great outdoors, it's proven that SUPing is good for mental health as well as physical. The positive influence on the mind and therapeutic effect of the water is a wonderful way to reduce stress.
Hopefully, on reading our beginner's guide to stand up paddle boarding, you'll have seen it's obvious health benefits as well as getting a few ideas on how to start. We're sure you're going to love it!