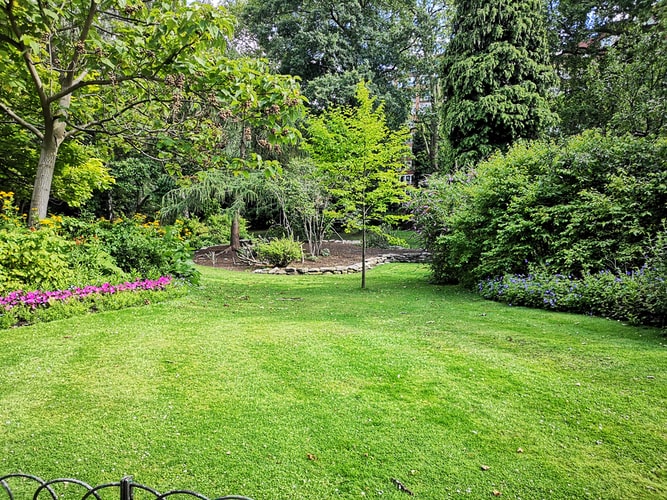 Whether you are looking to have a yard that is more eligible for entertainment or just want to bring some life and a fresh look to your surroundings, sprucing up your yard can be simple and affordable. Give your property some extra curb appeal with these five ways to spruce up your yard.
INVEST IN PATIO FURNITURE OR REFRESH YOUR CURRENT FURNITURE
If you do not already have any patio furniture, it can be a great investment. Not only will some furniture add some appeal to your space, it also gives you more functionality as you and guests will have a place to comfortably congregate and enjoy each other's company. A basic table and chairs is a sufficient purchase to start your patio furniture collection. Patio furniture comes in a wide array of styles and materials which you can choose according to the look you are trying to achieve. Already have patio furniture? It may be in need of a quick refresh. Patio furniture takes a beating from being outdoors and experiencing the elements. Choose an inviting paint color and spend a few hours painting your existing furniture to make it feel brand new again!
ADD PLANTS
One of the quickest ways to breathe some life into your yard is to add plants. Flowers, greens, bushes, or trees, the options are endless just as the benefits of these additions will be. A pop of color from some beautiful blooms will boost the look of any outdoor area. Make sure you choose your plants accordingly with the climate you live in and the amount of sun and shade the areas in your yard receive. Once you do a little research on which plants would best fit your space, just plant, maintain, and enjoy! If you have the time for some added work and maintenance, a vegetable garden can be a great way to enhance the area and provide you with some produce.
ILLUMINATE YOUR YARD WITH OUTDOOR LIGHTING
Weatherproof, durable lighting can give your yard a more inviting and finished look throughout the night and even during the day. Solar lights and lamps can be the perfect way to achieve this look or you can even string white or solid colored Christmas lights that you may already have in your attic. Choose one lighting style to spruce up your yard or mix it up by combining several complimentary styles.
CHANGE YOUR MAILBOX
A simple change that can make a huge improvement in your curb appeal would be to change or re-finish your current mailbox. Your mailbox is often one of the first things that visitors and those just driving by see and one of the last that people think to replace or spruce up in their yard. Give your mailbox a makeover or purchase a new one if it does not add something positive to the look and style that you are trying to achieve in your yard. A simple coat of paint or re-finishing a pre-existing mailbox is an easy and affordable way to achieve a new, cleaner look outdoors.
LOVE YOUR LAWN
Your lawn is the bread and butter of your yard and must be maintained properly. A Cub Cadet zero turn mower is perfect if you are looking to spruce up your yard and keep it looking great. Mowing your lawn regularly, fertilizing it, and watering it alone can make a huge difference. If you live in a climate where it is difficult to maintain a well manicured lawn, consider adding artificial grass for ultimate color and neatness to your space that does not need as much maintenance as natural grass. Make sure regardless of the type of lawn you have that you take the time to remove sticks, weeds, and other debris regularly.
Put some effort into your yard this season and give yourself an extended outdoor living space to enjoy! Making these small changes to spruce up your yard will make a big difference overall.