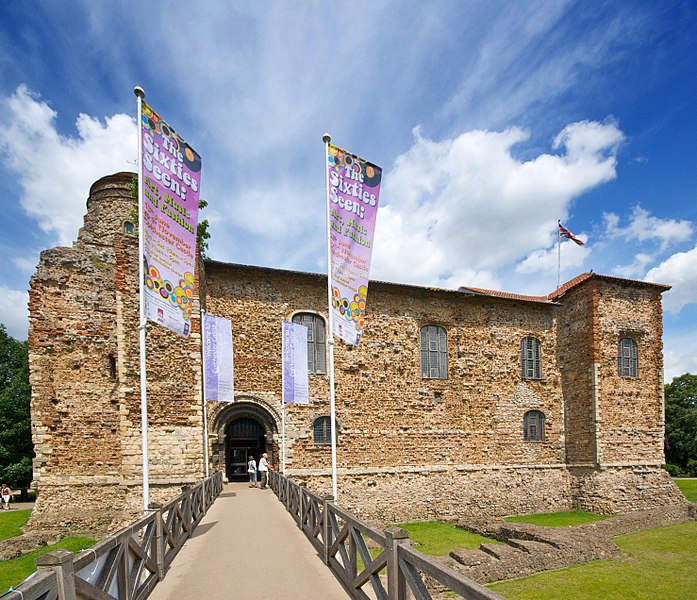 Photo by George Gastin. License: CC BY-SA 3.0
Britain's oldest recorded city and a market town with a rich history, some of Britain's landmark events have taken place in Colchester.
A must-see for history fanatics, Colchester was founded by the Romans and was at one point the capital of Roman Britain. Today, visitors can enjoy exploring the oldest Roman ruins in the country, as well as Balkerne Gate, the largest surviving Roman Gateway in Britain. But what else does this fascinating town have to offer? Keep reading to find out.
Yet more historical discoveries can be made with a visit to the Roman Circus, Britain's only known Roman chariot racing track, where you can access free indoor and outdoor displays as well as a guided tour.
Who doesn't love a good castle? Colchester's will not disappoint – it is, after all, England's largest surviving Norman keep – bigger than the Tower of London! In previous years, it's been a royal residence, a prison and an air-raid shelter, and now retains its glory as a museum. Here, you can take a tour of the 2000-year old vaults, go up on the castle roof and view interactive displays such as building a Norman archway, dressing up as an Iron Age Briton and steering a Roman chariot.
For lovers of the great outdoors, the Grade II listed Castle Park spans 11 hectares, is home to award-winning horticulture and is a great place to visit on a sunny day, be it for a picnic, games with the family or simply a nice walk. Offering stunning views, this is a great place for little ones, with a boating lake, play area, café and even friendly squirrels!
Another great family day out is Colchester Zoo. With over 270 species set in 60 acres of beautiful parkland, you can watch gorgeous animals from across the world roaming around, being fed and even see a training session with their keepers. Best of all, Colchester Zoo offers you the chance to feed the elephants and walk through a 24-metre tunnel where you can see sealions swimming overhead!
Overall, Colchester is a lovely town complete with hidden gems, including a modern arts centre and secret gardens, and it's no wonder it's so popular with visitors from near and far.
In Colchester, you'll never be far away from beautiful landscapes, stunning architecture and rich culture – so book your visit now.
If you're interested in security services in Colchester, check out Stage Security, a leading SIA security company that can provide a bespoke solution tailored to your requirements.