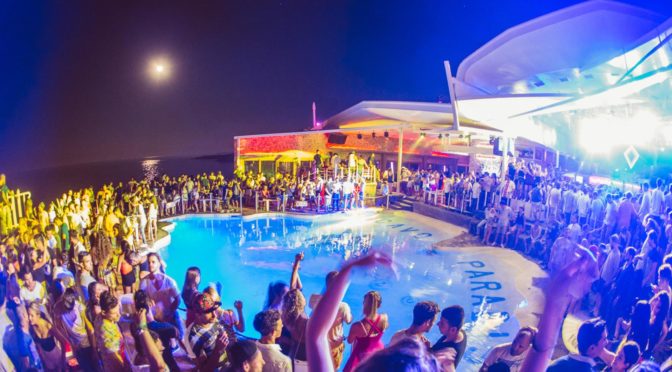 What made Mykonos island so famous around the world are mainly two things: the great variety of its beaches and the intense nightlife with parties everywhere. International celebrities, VIPs and jet-setters seem to love this combination, making Mykonos one of their favorite spots to relax, have fun and enjoy the sun and the sea.
Why thousands of tourists choose Mykonos for their summer vacations
Mykonos island is often described as a "small piece of Paradise" by those who have already been there. This is not so far from truth, as Mykonos offers a lot of beauties and all the things anyone would need to have fun and a relaxing good time.
Although it is called "the island of winds", Mykonos has many protected and organized beaches where visitors can have a great time. As the winds usually blow from the North, at the southern beaches are only affected by a soft breeze, which is really pleasant under the strong Aegean sun.
Picturesque sceneries alternate before your eyes: the traditional Cycladic neighborhoods in Chora and the fishermen villages, the wild nature of the virgin beaches, the sandy beaches with the turquoise waters, the luxury hotels, Mykonos villas and yachts.
Luxury is another key to Mykonos fame. Most people wish to spend their vacation time in an elegant environment with good services to spoil themselves a little. Many prefer to rent a villas Mykonos to complete that lavish feeling, while others, more regular islands guests go a little further and spot the available Mykonos villas for sale so that they can secure their spot in paradise for good! One thing is certain; here you will find all these that will make you feel like a star.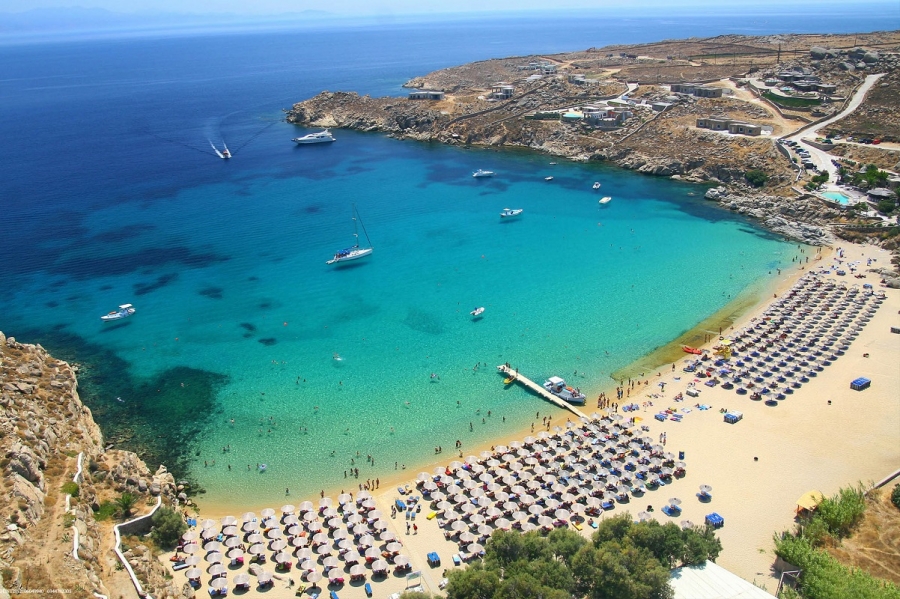 More than thirty beaches all over the island of Mykonos
It is hard to believe that a small island can have so many different beaches but this is completely true. There are three types of beaches in Mykonos: party, lounge and virgin ones.
Party beaches are found at the southern shoreline, offering a lot of services, watersports facilities, sun beds and umbrellas for rent during daytime and the biggest night clubs that host the wildest parties. They are often crowded and you can feel the party vibes even in the morning.
Lounge beaches are mainly on south and west sides of the island. Most of them are organized, offering everything you will need for a relaxing day on the beach.
Virgin beaches have no facilities and may be difficult to access but they offer great views and bonding with the nature. They never get crowded so they are ideal for those who wish for a little privacy and quietness.
The most famous beaches in Mykonos
Paradise, Super Paradise and Psarou beaches are the most well-known Mykonos party beaches. Thousands of visitors come here just to join the crowds and have fun in an endless day-and-night party.
Platys Gialos, Paraga, Ornos, Kalafati and Elia beaches are also well-known for their beauty and the relaxing atmosphere they offer. They are easily accessible, organized and suitable for families as well.
Korfos Beach is the most famous windy beach in Mykonos as the strong winds that blow here attract many windsurfers from around the world. It is not the best beach for swimming or sunbathing but when you get tired of the waves you can just walk to Ornos Beach which is within a walking distance from Korfos.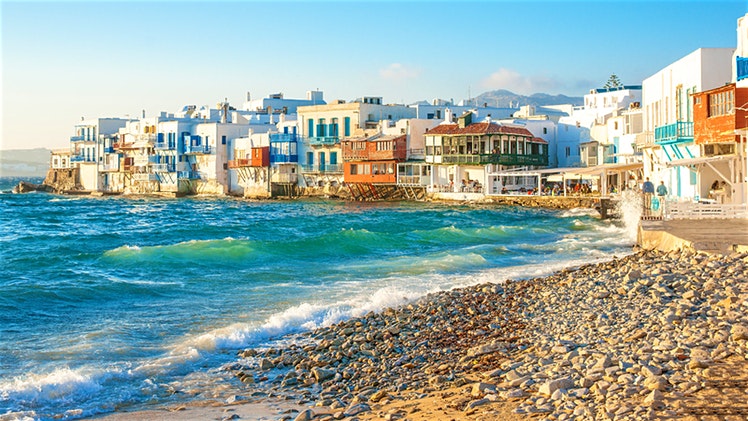 Crazy parties on the beautiful sandy beaches
The night falls, the music gets louder, people start dancing right where they are: on the chairs, at the bar, on the sand. A famous DJ picks up the latest dancing beats and beautiful girls start getting rid of most of their clothes. Somebody opens the first bottle of champagne and a champagne shower begins. Those who get really hot and tired from dancing take a break, dive into the sea and return for more dancing.
This is a typical picture on a party beach of Mykonos. The party goes on until next morning, when the sun comes up. Don't be surprised if you see many celebrities and VIPs having fun among common people – it is something regular in Mykonos' famous night clubs.
Tips to enjoy a frenetic party in Mykonos night clubs
Having fun is great but you need to organize some details before you decide to participate in one of the crazy parties in Mykonos. For example, if you are tired you will not be able to dance as much as you would like to. Here is a short list of tips to help you have a really unforgettable great time.
Make sure you had a lot of sleep or a relaxing day
Wear your swimming suit and chic, comfortable clothes above it
Book your VIP access to the club of your choice in advance
Make arrangements for your transportation back to your hotel room or villa
Arrive at the club early, as the best spots will be soon taken