More or less most of us feel very confident when it comes to suggesting a place to a tourist or if it is just us or our family who are about to have lunch out or go for a drink with friends. I am sure that this is the case with most of you when we have to do with your place or hometown. But how about a whole different city or even country? Are you that familiar? So, in the lines to follow we will meet Athens, the Greek capital. We are going to talk about its restaurants and its cafes-bars.
THE BEST DINERS AROUND
To begin with, here are some of the top Athenian eateries. The first one which is recommended for its marvelous breakfast is Tudor Hall. It is famous all-around Greece for its location on the rooftop of King George hotel. The coffee, tea and the sweets offered there are of the highest possible quality so you have to give it a shot. Of course, most of the wine list is pretty pricey but you can just have your breakfast, enjoy the view to the Acropolis and leave the place more than satisfied.
Moving on with lunch, it is for sure that there are plenty of options and you will definitely find yourselves spoilt for choice. A rather stimulating choice could be Jaipur Palace. It is adjacent to the center of the city of Athens in a region called Neos Cosmos. It is open from 1pm through midnight so you will get a table at an hour of your selection. That diner serves Asian, Indian and vegetarian dishes so you had better be ready for a "trip" to new flavors and traditions. Its unique decoration and the vintage pans and plates which are used help you to immerse into it. The freshness and the uniqueness of the ingredients is amazing. A must-try!
Last but not least, one of the best restaurants in Athens, Greece. It is called Dinner in the Sky and if you have never had the fantastic chance to be there, I feel sorry for you. It offers an evening and a night choice of dinner depending on your preference. The first one takes place at 7.30pm and the other one at 9.30pm. The meal per person costs 135€ but the fantastic view, the friendliness of the staff and the stunning dishes will leave you speechless wondering where this had been all these years. Well, it is set quite high and you get even higher. That is, once everybody is tightened on their seats a mechanism moves all of you high above the ground so as to feel like flying while dining. There is nothing like this in Greece and only Athens offers you that option!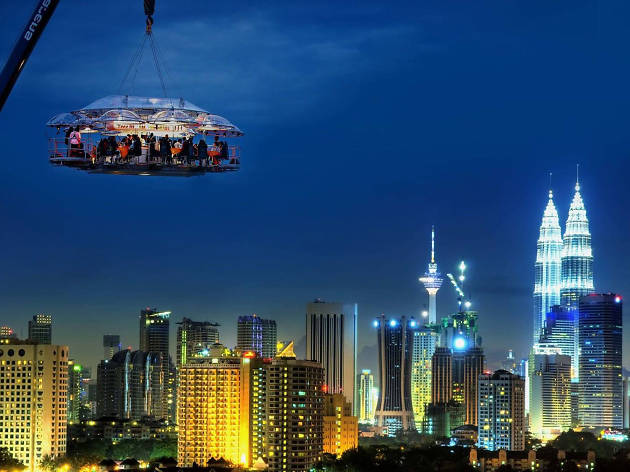 HOW ABOUT A COCKTAIL?
If you love beverages or alcoholic drinks, there are no worries. Let's start immediately with an ideal place for your needs and taste. It is called Aethrion and it is located in Hilton Hotel. It is well known for its magnificent wine list as well as its cocktails. Make no mistake though-it is one of the most expensive in the city, but you get what you pay for, right?
Couleur locale is another exciting choice whose menu includes all kinds of wine and cocktails. The Acropolis is so close and in front of your eyes that you feel, you will touch it if you stretch a bit. You see it is located in Monastiraki so it cannot get closer than that.
If you are more old-school though, you will appreciate The Lazy Bulldog Pub. It is more like an English pub rather than a Greek café which is not bad at all. In fact, most of the meals served are pretty fatty but delicious, well prepared and carefully presented. Its dishes start from 5€ each so you will not have getting something suiting…your wallet and flavors.