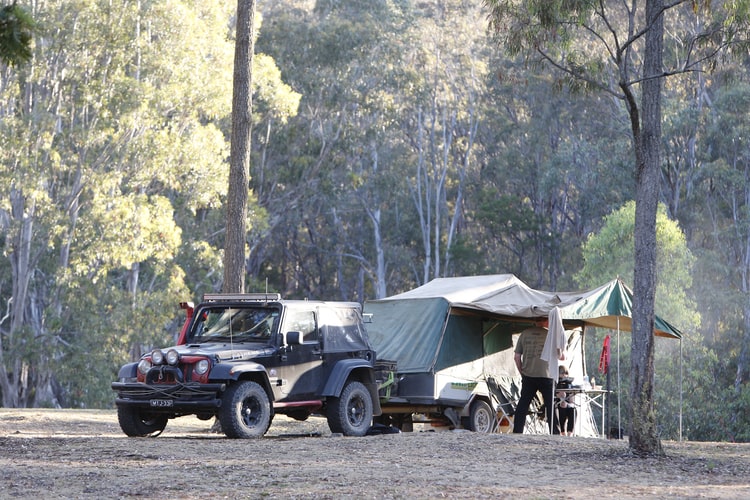 Camping is amazing for so many reasons – it's healthy, exciting, social, action-packed and above all things incredibly kind to every kind of budget! Everyone deserves to have a glorious getaway to melt the stresses of day to day life away, regardless of how much they might have in the bank. If you're looking to schedule yourself a getaway, you're interested in making camping a part of your lifestyle or you're wanting to adjust your routine to be a little more budget friendly, these money saving tips will lead you to your best and most affordable camping trip yet…
Best Cheap Travel Trailers
In order to have a fantastic and savvy camping stay, you'll need to head into the grounds equipped with the right gear! A camper trailer is undoubtedly a bit of an investment, however, you're putting your hard earned money into a future proof model that keeps giving back over the years. A one time expense gives you all the freedom, comfort, safety and convenience that you could possibly need for literally countless years to come! In order for your camper trailer to be truly timeless, you should have a good think about the size of your camping clan. Consider whether you're going to be growing your family in the near future, hosting guests for holidays or joining with a regular group of fellow campers to make the best capacity choice possible. Not sure whether you can realistically fork out for a brand new camper trailer any time in the near future? Not to worry! There's a myriad of options for amazing quality second hand camper trailers out there. You'll have to stick to reputable, Australian made providers to ensure that you're purchasing a pristine, perfect quality pre-loved camper.
Money Saving Hacks
And now for a few savvy pointers to save you some pennies whilst you get out there and enjoy all that nature has to offer!
Buy in Bulk
Any good saver knows the power of purchasing in bulk. This comes in especially handy when you're planning your meals. Try to plan dishes that use largely the same or similar ingredients in order to get those bulk buys in. Keep breakfast dry and simple to save yourself money on rustling up three hearty meals each day. You can also purchase essentials such as first aid gear, fuel and sunscreen in bulk to keep yourself prepared for those camping trips to come.
Camp in the Off Season
Camping in the height of summer or on popular public holidays can rack up a hefty site fee. Curb the inflated expenses by sticking to adventuring during the off season instead. You'll enjoy quieter campgrounds, uncrowded serene natural spots and plenty of resources all around you in the off months. Make sure that you contact your ground of choice to check that it's still up and running in the off season.
This tip might just save you money or stretch your budget should you decide to go camping in Iceland, a known expensive destination, during the off-season months. You'll still need to do your research, rent a campervan in advance, and plan and pack for your camping trip—it's going to be all kinds of exciting and challenging at the same time.  
Head to Free Spots
Hey, some camping spots are completely free! It's all a question of sniffing them out, so do plenty of research and look into spots that you can camp at for nothing.
Perfect your Packing
Perfect for packing to avoid having to stop off and panic buy expensive essentials. Proper preparedness saves you so much money, stress, time and energy – so get working on it for your own sake!
Stay Close to Home
Lastly, if you want to keep your trip as budget friendly as possible, keep it close to home. You'll cut down on fuel, food and travel expenses!
Follow these trailer and camping trips for a fun and savvy camping trip.