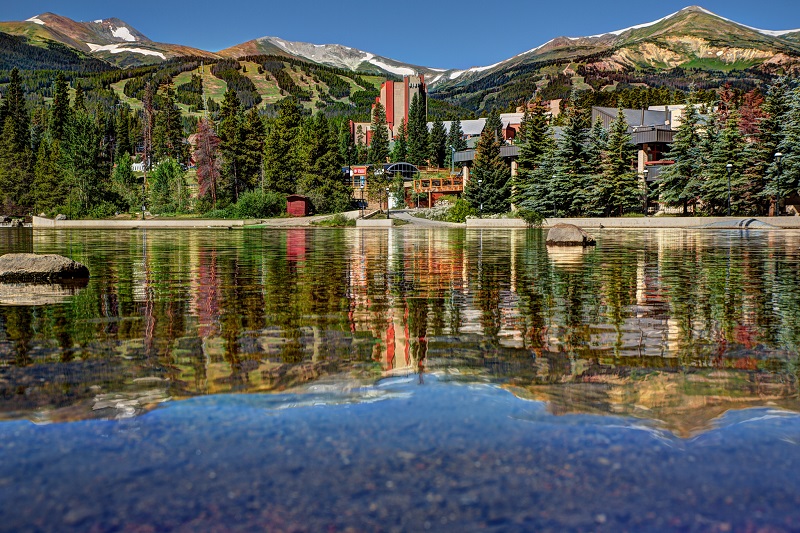 Not everyone wants to go to the mountains to ski. During the winter, it can be very cold and full of tourists who are there for one reason – to ski. And when this happens, the prices shoot up making a vacation at this time of the year very expensive. The alternative is to visit in the summer when there are fewer people and the cabins in Breckenridge are much more affordable. This is a great way to spend your summer vacation with the beautiful views of the mountains. In this article, I'm going to describe everything you need to know about visiting Breckenridge during the summer.
Why Visit Breckenridge in the Summer?
The first reason is that there's going to be fewer people in and around the area. You won't have to wait in line or be faced with the inevitable congestion. This is perfect if you want to go hiking or explore the region without having to worry too much about finding a place to park. When it's low season, the prices are cheaper making a trip to the mountains more affordable. You can find decent accommodation with big discounts compared to the winter months.
Enjoying the outdoors is also better when the weather is warmer. You don't need to pack as many clothes and it rains less. This means that you don't need to pack three suitcases with all of your cold weather gear. But, don't worry, if you go up to some of the higher altitudes it's still possible to see and enjoy the snow-capped mountains at any time of the year. And if you want to explore the town and soak up some of the history, it's a lot more pleasant when you can do so in a t-shirt and jeans.
The Best Things to Do in the Summer:
The things to do in Breckenridge during the summer will depend on your interests and preferences. Some people like to relax with the cooler air and do a bit of hiking. Others come here for adrenaline sports.
The most obvious thing to do is to take advantage of one of the many trails. The time it takes to finish them and the level of difficulty varies from being moderately easy to very difficult. As you hike up the trails, you'll pass through forests and will most likely encounter some wildlife. There are several alpine lakes and streams that are great opportunities for photographs. The views from the trails are amazing all year round. Another advantage is that during the winter, the snow covers the trails making it both difficult to follow and harder to hike.
If you want to get a bit more of an adrenaline kick, you can bring your mountain bike or rent one from the town. Breckenridge is cyclist-friendly and you can find places to ride your bike. Some of the hills are steep and give you a kick when you're speeding down them. This is only really possible during the warmer months of the year when the snow has melted. Cyclists have the choice to
explore the region on the roads or on the trails. Both will satisfy your sense of adventure and give you an amazing experience.
Water sports are also popular in Breckenridge when the weather is warmer. There are lots of lakes and streams that fill up quickly when the snow melts and they flow surprisingly fast. Some people like to go rafting in the faster waters whereas others come to enjoy a bit of fishing. You can also learn and take part in stand-up paddleboarding. This is similar to surfing, but you move around with a paddle. But only sign up to this if you don't mind falling into the cold water!
One of the other activities is zip lining through the mountains. A line connects two points and you hold onto to something and slide down. You can do this against a breath-taking backdrop of the mountains. If this is something that you're interested in, the best option is to check online before you visit. You can find offers and promotions from different companies and if you're lucky you'll be able to get a reasonable discount.
The Disadvantages of Visiting Breckenridge in the Summer:
The biggest disadvantage is that it's going to be completely different from the winter wonderland. You're not going to see much snow unless you go really high up. And the weather is warm, but it still gets very chilly on the night.
Another important thing to consider is the altitude and getting altitude sickness. This affects more than half the people who come here and can take a few days for your body to fully acclimatize. If you're here to enjoy sports, you need to be very careful not to overdo anything when you first arrive. Inevitably, this can be difficult since you're probably only going to stay for a few days. People tend to have longer vacations in the winter to give themselves more time to enjoy skiing. After all, they can only do it during the winter months. This gives them more time to allow their body to adjust.
The Takeaway Message:
Breckenridge isn't just a skiing resort. There are lots of things to keep you busy in the summer including hiking, water sports, and mountain biking. Fewer people visit making it less crowded and the prices are lower. This makes it more enjoyable if you're here to relax. Just make sure that you factor in the altitude sickness before pushing yourself too hard.