Irresistibly magnetic, unbelievably lavish, and outstandingly alluring, Mykonos is an undeniable winner when it comes to your summer vacations. Featuring stunning Cycladic architecture, amazing, crystalline waters, fine-sand beaches, and breathtaking seascapes and sunsets, the Queen of the Cyclades will surely put your heart in total awe. But, besides the ultra-luxurious Mykonos hotels, the VIP lifestyle, and the extravaganza that characterises every aspect of the cosmopolitan island, Mykonos is sheer majesty, with the following locations being among the most alluring ones you definitely need to visit!
Little Venice – Picturesque as if from a fairy tale
The small seaside Mykonos Town neighbourhood is a beloved pole of attraction that is lined with adorable, colourful houses with charming, bougainvillaea-filled balconies that hang over the lapping waves. Once belonging to wealthy merchants and sea captains, they now serve as cafes, restaurants, and bars, providing visitors with unobstructed views of the Aegean Sea and the romance of a lifetime! What's even more enticing about this region is that, despite the many entertainment venues and nightclubs around, it has not lost its unrivalled charm. Plus, Little Venice is where the island's mascot, Peter the pelican, loves taking his evening walk or breakfast and having selfies with visitors and locals alike!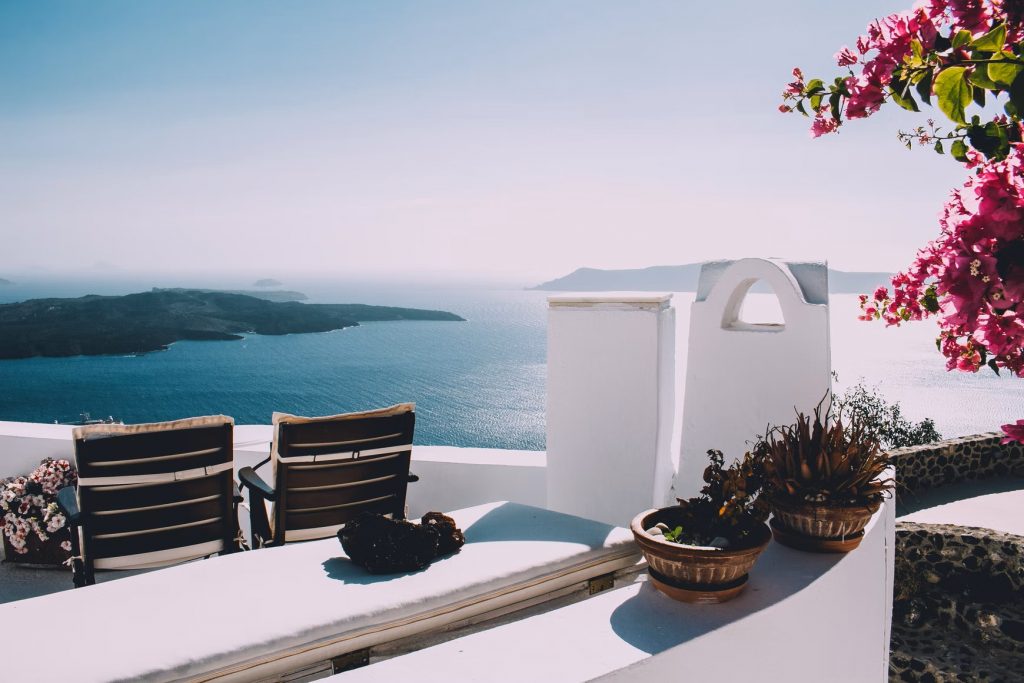 Ornos Bay – Authentic Mykonos vibes
Exuding an unbeatable resort atmosphere, Ornos Bay sits on the southern side of Mykonos and pampers with a sandy shore, calm, transparent, shallow waters, and lots of restaurants, bars, cafes, and boat rides, among many others. Adorning the idyllic Ornos village, which epitomises the distinguishing whitewashed architecture we see all around the island, Ornos Bay is a popular meeting place for people seeking a trendy alternative to the vibrant capital (minus the huge crowds and noise). Apart from the numerous watersports activities, you may also enjoy your leisure time by the beach with a cocktail in hand, or soak up pristine sunset views and panoramas of the shimmering archipelago from the balcony of your ultra-stylish suite or private villa at Ornos.
The Windmills (aka Kato Myli) – Centuries-old landmarks
Overlooking Little Venice, the Windmills date back to the 16th century and offer a glimpse into the way the locals used to make flour by grinding local grain using wind power. The 500-year-old windmills are no longer functional, while some now serve as museums (and others as private residences). Perfectly preserved to date, the 16 remaining ones are also exceptional sunset watching spots at Mykonos. And, if you do decide to visit them, we strongly suggest a stop at the Mykonos Agricultural Museum nearby, especially if culture-related activities excite you.
Delos – Mysterious and seductive
Once the spiritual, religious, and commercial centre of the entire Mediterranean Sea, Delos is a UNESCO World Heritage Site and a place with archaeological treasures from end to end. According to Greek mythology, this was the place where God Apollo (god of archery, light and music) and his twin sister, Artemis (goddess of the moon, nature, hunt, and more) were born. For that reason, you will find impressive remains of ancient temples dedicated to those two, as well as features like the Sacred Lake, the Lions' Gate, and more – all emitting a sense of grandeur and glory.
Mykonos feels divine, no matter how one sees it. So, feel free to explore the Island of the Winds on your own to discover many more of its fab little nooks and spots that will make your heart leap with utmost satisfaction, whether you are here for its animated nightlife and party scene or its more laid-back and umber-posh, yet unpretentious, side.