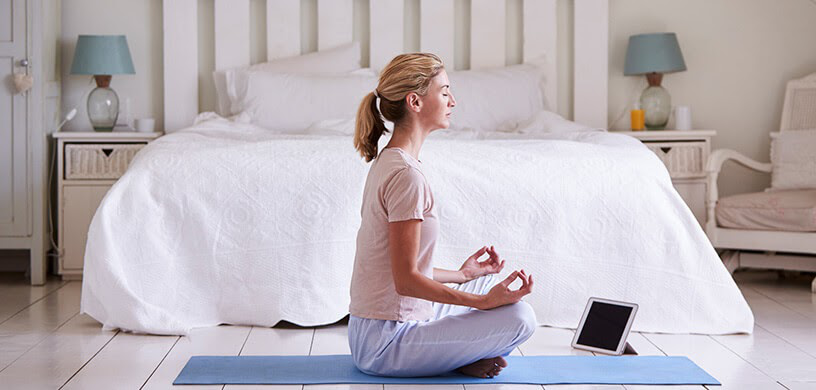 Living a healthier style doesn't have to include rigorous workouts you absolutely dread. In fact, you may just quit only to wish for an alternative method for taking care of your health. The good news is you can try yoga and meditation online for self-improvement, health reasons or to try something new.
Benefits of Meditation
Meditation is a spiritual technique that has plenty of amazing health benefits. Gain inner peace and learn acceptance by utilizing this calming technique. If you suffer from mental health issues such as anxiety, depression or suicidal thoughts, meditation can give you something to believe in and calm your distressed spirit. Meditation can also benefit you if you're addicted to drugs or alcohol. You don't have to hide from your problems if you can find a real way to face them. Have less stress and a clearer head. Meditation online has inspiring courses designed to motivate you to improve your health and well-being, and change your life for the better. Escaping from city life, loud noises or negative people can be simple. In your free time, just grab a mat, turn on meditation online and immerse yourself in this highly beneficial spiritual practice. Possibly best of all, learn how to understand yourself and deal with your problems.
A More Positive Lifestyle
Being more positive in your daily life is essential to personal progress and life satisfaction. Meditation and yoga combined can have a powerful effect on your state of mind. With a bit of realistic effort and idealistic goals, you can learn to use your inner strength in the best way. Focus on living in the moment in a healthy way by being yourself. In addition to this, allow yourself to become excited for self-improvement. This is what will help you be happier, sleep better and follow your dreams. Let yourself believe in a more positive lifestyle so you can make an effort to achieve it.
A Variety of Unique Courses
Glo offers a variety of courses so you have the opportunity to try meditation online. You can practice meditation by itself or add yoga to your routine. Getting your friends or family involved can bring you closer together. A few classes you might enjoy are Inner Sanctuary, Unraveling Knots, Kindness Meditation and Finding Peace among many others. Incorporating meditation into your life on a regular basis can improve mental health, fitness and spiritual beliefs. Try these techniques in the morning, evening or anytime you desire to unwind, relax and find the inner peace everyone needs and deserves. To get started, consider signing up for a free trial. You can also download your courses to any device, and take them when you're away from home.
A Bit About Glo
Glo aims to inspire personal progress, human connection and inner peace in each individual. No matter who you may be or how old you are, you'll always have a quiet place to escape to from life's distractions. You can genuinely learn to love yourself, and achieve your goals. Become a new, improved person, and live the meaningful life you truly deserve. Glo is affordable and totally worth it for everything you'll gain.
Being healthy means taking care of your body, mind and spirit. It's a smart idea to focus on positive thinking, eating fresh foods and spending time outdoors as well. Besides this, practicing spiritual techniques can make your life worthwhile.